Easter is slowly approaching and that means one thing...

Doctor Who Easter Eggs!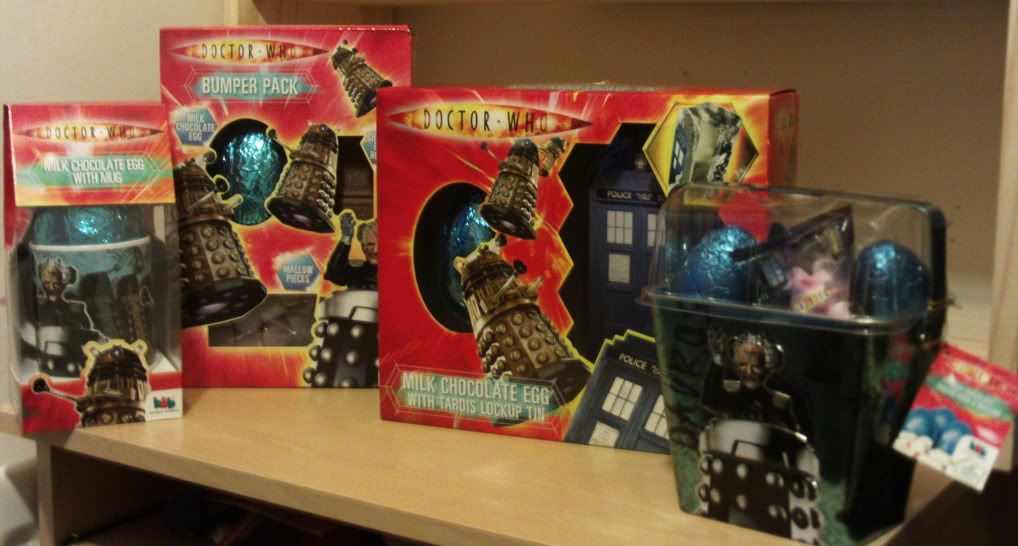 Yes, as usual we Who fans have been treated to plenty of Easter goodies from our favourite show from the folks at Bonbon Buddies and this year we have a Dalek/Davros style going on. Here's the 2010 range:
3 Mini Milk Chocolate Easter Eggs and 2 Packets of Mini Marshmallows with Davros/Dalek Tin Basket

Milk Chocolate Easter Egg with Davros/Daleks Mug
Milk Chocolate Easter Egg with TARDIS Lockup Tin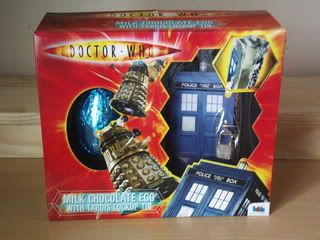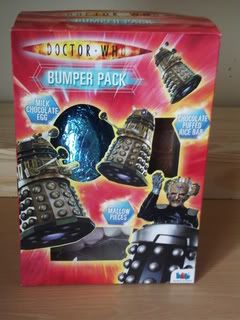 Bumper Pack containing Milk Chocolate Easter Egg, Chocolate Puffed Rice Bar and Marshmallows
And that's it!
Lot's of choices there!
If you get them, make sure you do not buy from Forbidden Planet! If you have a £stretcher near you, get them from there. The prices are so much better:
Tin Basket Set:
FP - £3.99
£stretcher - £1.99
Mug Set:
FP - £4.99
£stretcher - £1.99
Lockup Tin Set:
FP - £5.99
£stretcher - £2.99
Bumper Pack:
FP - Not sold on website
£stretcher - £1.49
Much better prices! £8.46 for the lot!
If you have your eye on one of them but don`t want to pay for it, stay tuned because
we`re launching a competition tomorrow and the winner gets a Doctor Who Easter Egg of their choice!!!
Also stay tuned because on Easter Monday (Or possibly the day after),
we`ll be reviewing all 4 of these Doctor Who Easter Packs!
Lots to look forward to!
P.S Sorry for the lack of posts lately. As you know, I was away over the weekend and I'm currently working on a project with Matt which is very important. I'll try and do the odd post starting tomorrow though and normal service will finally resume soon.